NEWS
4.19.15 | Crowdsourcing Julia Staab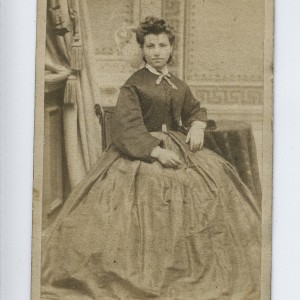 Since American Ghost came out, I've received emails from a number of readers sharing their own memories of Julia Staab, her family, La Posada Hotel, her ghost, and ghosts in general. Distant cousins have sent me family photos of Julia's siblings and nieces and nephews; hotel guests and Santa Fe visitors have sent me stories of their own ghost encounters.
I had always hoped that when the book came out, I'd gather more information about Julia's life and family — tidbits that were hidden in family keepsake books or photo albums. I also was curious whether people continued to have encounters with the ghost of La Posada. Now I am beginning to hear some of those stories, and I've created a new blog on my website to share them as they come in.
You can read those stories here. If you have stories you'd like to share, feel free to send me an email and I'll do my best to get them posted on the blog. | READ MORE
4.9.15 | What I'm Reading    
BookPage asked me recently to share with them what I've been reading lately. I can't say there's any rhyme or reason to my book selection these days: a little nonfiction, a lot of fiction. A little American West, a little Spanish Inquisition. And a lot of new work by friends like Bill Gifford, James Hannaham, Jonny Waldman and Gretchen Rubin, who all had books come out within a week of my own. But for BookPage, I decided to stick with the theme of the American West and wanderers along frontiers real and imagined. Here's what I came up with.  | READ MORE
3.28.15 | People Mag, Fresh Air, Dallas Morning News, Shelf Awareness    
It's been a big week! American Ghost was a People Magazine "Best Book" of the week: "In this intriguing book," says People, [Julia] Staab's great-great-granddaughter shares her journey to discover who her immigrant ancestor really was—and what strange alchemy made the idea of her linger long after she was gone."
A few days later, I was bombarded with emails and Facebook messages letting me know that literary critic Maureen Corrigan was reviewing American Ghost on NPR's Fresh Air: "Whether you believe in ghosts or are just intrigued by their persistence in popular culture," she said, "American Ghost is itself a haunting story about the long reach of the past."  | READ MORE
3.20.15 | Barnes & Noble Review   
Some nice words for American Ghost from Barnes & Noble Review:
Though the digital age may be an impediment to our relationships with the living, its tools are simultaneously connecting us to those on the other side. Through the speed and convenience of the Internet, researching one's family tree has become easier than ever. In her book American Ghost, Hannah Nordhaus, author of The Beekeeper's Lament, hopes to use any tools at her disposal to discover whether or not her great-great-grandmother Julia is indeed haunting the Santa Fe hotel she once called home.  | READ MORE
3.11.15 | "Habits Interview" with Gretchen Rubin   
Gretchen Rubin is author of The Happiness Project and the upcoming Better than Before, and is an authority on all things habits and happiness. I spoke with her last month about my own habits: good, bad, and ugly. Now the entire world knows that I crack my knuckles and am a cheap drunk. And also, how much my great-grandmother Julia Staab affected how I try to live my life. | READ MORE
3.10.15 | Launch Day – wish me luck!   
American Ghost comes out today, along with reviews from the Boston Globe and Minneapolis Star Tribune. If you haven't pre-ordered the book, now's your chance, PLEASE BUY NOW!
3.2.15 | Forgive Yourself  
The American Scholar asked me to write an essay recalling one piece of advice that was most helpful to my writing career. I wrote about Mrs. Bluitt, my fifth-grade gifted-and-talented teacher. She died two decades ago, but she towered huge over my development as a writer, and as a person. Here's what I wrote. | READ MORE
2.13.15 | Elle Magazine  
Elle Magazine's March Issue includes a lovely review of American Ghost. "It's ironic," writes Elyse Moody, "that the Santa Fe, New Mexico, hotel occupying journalist and historian Hannah Nordhaus' ancestral home is named La Posada, or "place of rest," since no one who stays there seems to get any." | READ MORE
2.3.15 | American Ghost Sneak Peak on Scribd 
What? You can't wait until March 10 to see what American Ghost is all about? Lucky for you! My publisher, HarperCollins, has posted the book's first chapter on Scribd.
You can read it here.
1.20.15 | Local Author Q&As
On my last book tour, I spent a lot of time standing alone at a podium, talking about myself and my book. But my favorite part was always the Q&A with the audience at the end, when I was far less scripted and the audience far more engaged.
So during this book tour, I decided to skip directly to the Q&A as much as possible … | READ MORE
1.05.15 | Library Journal Review 
Library Journal gave American Ghost a very nice review, and a star. Here's what they said:
"Nordhaus follows her successful The Beekeeper's Lament with the astonishing story of her great-great-grandmother Julia Schuster Staab… | READ MORE
12.18.14 | American Ghost in EW's 2015 Preview Issue
Entertainment Weekly has named American Ghost one of "20 Books We'll Read in 2015," along with books by Toni Morrison, Patti Smith, Kate Atkinson, Erik Larson, Jonathan Franzen, and oh, also, Willie Nelson. | READ MORE
12.05.14 | Publishers Weekly Starred Review
Publishers Weekly gave American Ghost a starred review! Hooray! "Journalist Nordhaus…embarks on a 'ghost hunt' for her great-great-grandmother, German immigrant Julia Schuster Staab," the review said, "in this unique collision of family history, Wild West adventure, and ghost story…. | READ MORE
11.30.14 | Book Tour Dates Are Set
Looks like we've got the American Ghost book tour dates all set! I'll start, fittingly, in New Mexico, then head back to my current hometown of Boulder, then to my former hometown of Washington D.C., then Denver, San Francisco and Auburn, Calif. | READ MORE
12.6.14 | A Starred Review from Booklist
A nice (starred) review from Booklist. Though the review does quibble with my (spoiler alert) "lack of solid conclusions" as to whether or not ghosts are real and whether Julia Staab is one of them, this is my favorite review so far. | READ MORE